30th TTA Team Championships, April 2015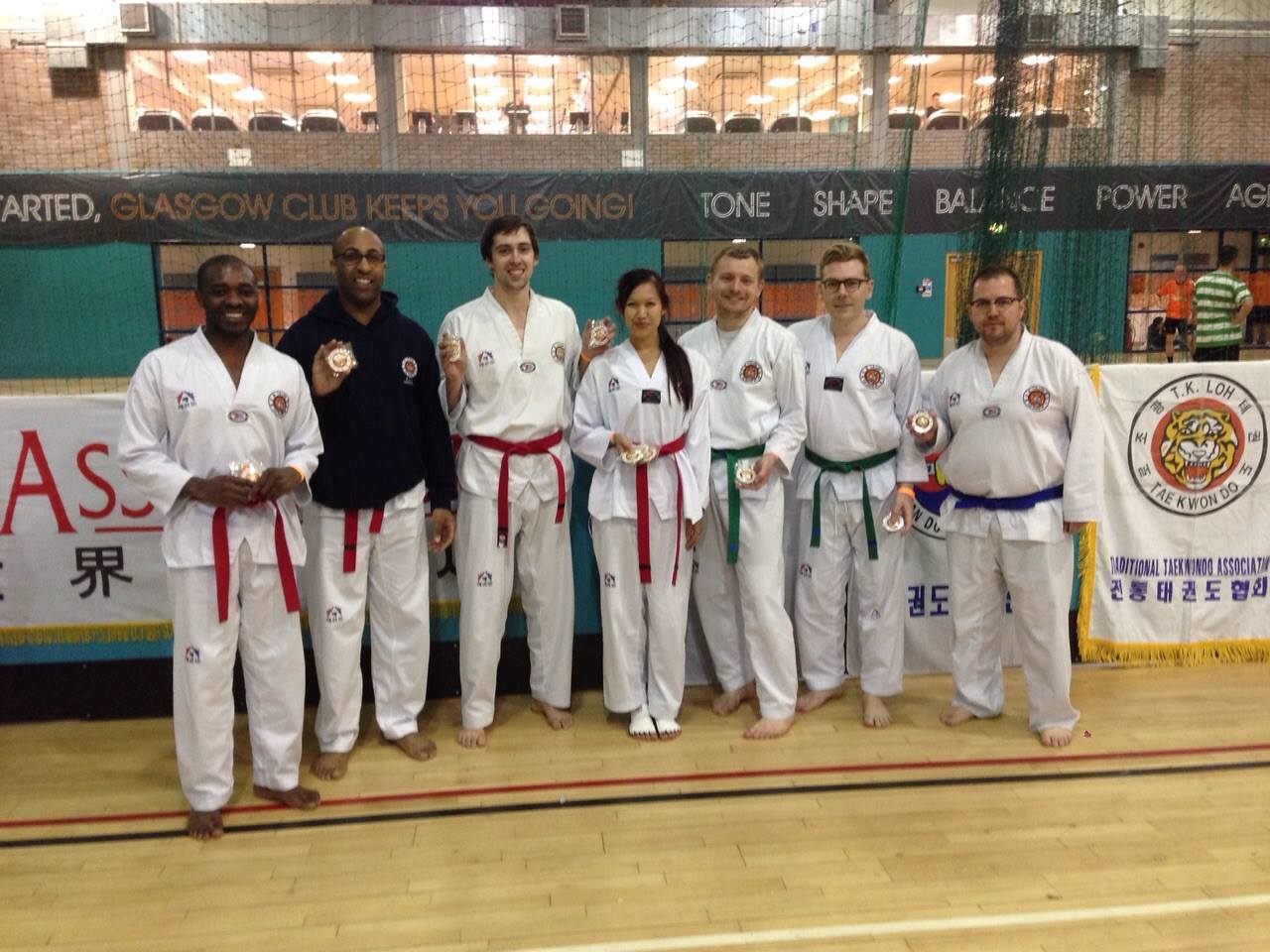 On Sunday 26th April, TTA London attended the 27th TTA British Team Championships in Glasgow with a mix of first time competitors and veteran competitors/referees. Many thanks to the organisers for another extremely successful event, and to Mr Bender for accompanying us and providing his coaching, advice and support throughout the competition.
Here are the results and recollections of the event from the TTA London Team.
Results
Paired Poomsae
Anthony Cornwell and Charlotte Foong – Gold
Senior Male Team Kyorugi
London Team 2nd kup and above (Anthony, Seth, Lennon, (London), Mark and Chris (Clydebank) – Bronze
London Team 6th–3rd kup (Patrick, Erik, Bert) – Silver
Senior Female Team Kyorugi
London Team (Charlotte (London), Amy and Juilanne (Nottingham) – Bronze
Senior Female Individual Kyorugi
Charlotte Foong – Gold
Referees
Maria Carapeto and Marie Eve Menger
Reflections
"As a referee for the third time now, I can assure everyone that things get better with time. Suddenly you feel yourself multitasking without even realising it – following the fight, referring, scoring, dealing with the desk work, keeping an eye on the score board and the corner judges, whilst still appreciating the skilful players and learn from their techniques." Maria Carapeto
"At my third competition, it was great to find out there were still plenty of lessons to be learnt, accompanied by the usual healthy dose of taekwondo spirit. I entered paired poomsae for the first time and gained a lot from timing my pattern with a partner, whilst appreciating the etiquette in the ring. In the sparring,although I was easily beaten by a skilled opponent, it taught me a great deal in terms of positioning, assertiveness and tactics. The match gave me a number of pointers for my regular training and will spur me on to train harder in class."Anthony Cornwell
"Competing, as I now see it, is an essential part of development of Taekwondo practice. Rather than being scared, it is an experience that all students should look forward to and aim to take part in. On the day, the atmosphere is friendly, supportive and competitive." Lennon Chirebvu
"I was very proud to be part of the London TTA team on Sunday and I thought everyone was outstanding and showed true spirit and commitment in everything we did. It was an emotional return as I haven't competed in 19 years and I am glad I was able to return and compete with TTA London. The highlight for me was the ladies final. It was exciting, thrilling, full of drama and exemplified the TTA spirit. Overall a fantastic day from start to finish that just showed what an amazing organisation the TTA really is."Patrick Callaghan
"As a first timer to a competition, it was good to see TTA people from all over, and to see how London ranks up compared to other teams both in technical execution and in etiquette. The display of kyorugi technique and precision from the higher grades, especially the black belts is inspirational and really something to aim for. Personally, I'm looking forward to the next competition."Bert Blommers
"While I was apprehensive about competing for the first time, I found the atmosphere to be incredibly friendly and everyone to be very encouraging. It was a great learning experience to see the men and women's finals and a great opportunity to see some very exciting kyorugi. If I take anything away from the competition, it is that there are a few key areas to work on before the next one."Erik Niit
"At the competition you learn so much. You realise how big the TTA is and how it reaches well beyond the safe London club world. You learn so much by watching others, by watching their mistakes and even more by watching what they do very well. One takeaway from this event for me has been "Keep the bigger picture in mind, and don't get lost in your own focus".Marie-Eve Menger